Details

Category: Uncategorised
New release on Renderhub - PlanB Spring-Summer outfit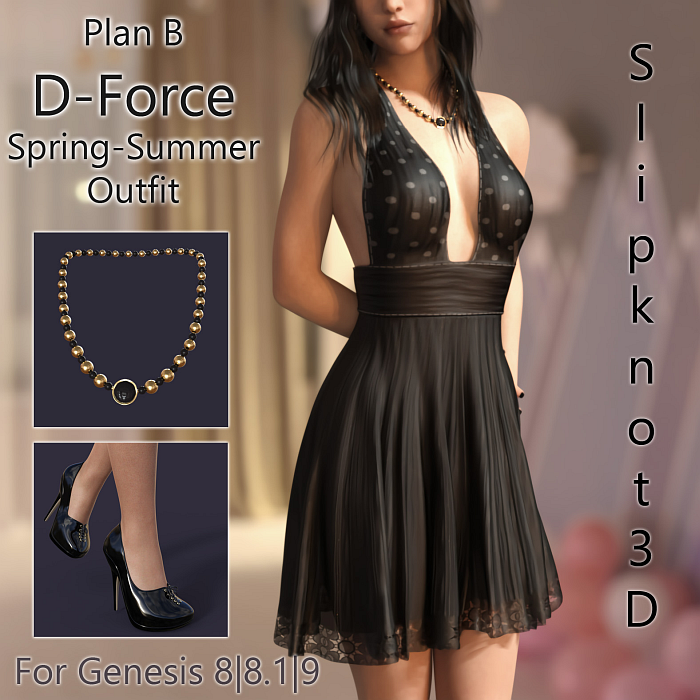 Includes dforce Dress, dforce necklace, Shoes and earrings
Details

Category: Uncategorised
Disclaimer www.digi-dotz.com

www.digi-dotz.com (domain name digi-dotz.com) ("the site" "this site") is a website currently owned and controlled by M.Clutton ("the owner" "the webaster" "digi-dotz") providing information, free and paid digital downloads of content relating to computer graphic software including but not limited to Daz Studio.
Please read this document before using/accessing the site.
By accessing/using the site you agree to bound by the terms and conditions set forth below.
The owner or authorized administrator of this site may modify this agreement at any time and such modifications shall be effective
immediately upon posting of the modified Website Terms and conditions. You agree to review the terms and conditions periodically and your continued access or use of the site shall be deemed your acceptance of any modified terms and conditions.
1. Site Usage and Access
Unless specifically stated, digi-dotz does not endorse, control or operate any content, products or services linked to outside of digi-
dotz.com and you agree digi-dotz shall not be held responsible in any way for any loss or problems caused, financially or otherwise, by following links or directions to any such content, products or services
digi-dotz cannot guarantee that any files downloaded, viewed or loaded in a web browser will be free of errors, viruses or any other
malicious code, although we will regularly scan the site in order to keep it clean
You agree that you assume full responsibility and risk for your use of the site.
digi-dotz DOES NOT MAKE ANY EXPRESS OR IMPLIED WARRANTIES, REPRESENTATIONS OR ENDORSEMENTS WHATSOEVER WITH REGARD TO Use of or access to the site.
digi-dotz SHALL NOT BE LIABLE FOR ANY COST OR DAMAGE ARISING EITHER DIRECTLY OR INDIRECTLY FROM ANY USE of or ACCESS to the site and DOES NOT WARRANT THAT THE SERVICE WILL BE UNINTERRUPTED OR ERROR-FREE OR THAT DEFECTS IN products, information or content WILL BE CORRECTED.
2.  LIMITATION OF LIABILITY
IN NO EVENT WILL digi-dotz BE LIABLE FOR (I) ANY INCIDENTAL, CONSEQUENTIAL, OR INDIRECT DAMAGES (INCLUDING, BUT NOT LIMITED TO, DAMAGES FOR LOSS OF PROFITS, SOFTWARE ERRORS, LOSS OF EARNINGS) ARISING OUT OF THE USE OF OR INABILITY TO USE OR ACCESS the site, OR ANY INFORMATION, OR TRANSACTIONS PROVIDED through the site, OR DOWNLOADED FROM the site
3. Indemnification.
    You agree to indemnify, defend and hold harmless digi-dotz, its officers, directors, employees, agents, licensor's, suppliers and any
third party information providers to the Service from and against all losses, expenses, damages and costs, including reasonable attorneys' fees, resulting from any violation of this Agreement (including negligent or wrongful conduct) by you or any other persons use of or access to the site
4. Copyright and license
Unless otherwise stated in a downloadable products "read me" file. Items downloaded through www.digi-dotz.com remain property of digi-dotz.
Upon purchase or free download (if offered as such) you are then licensed to use the files to make commercial or non-commercial renders (including video renders)
You may not post, upload, bundle, repackage or redistribute any Downloadable content in any way.
You  may not repost, upload, claim as your own, or in any other way redistribute any graphics posted or displayed on the site where the rights are owned by digi-dotz
5. Refund Policy
In the event you are not satisfied with a product purchased from digi-dotz you may use the site contact form to ask for a refund explaining why.
A full refund shall be given only if you contact digi-dotz explaining why you want a refund and if that contact is made within 7 (seven) days of purchase date.
Refunds requested after 7 days from purchase date may still be given at the discretion of digi-dotz
No refunds shall be given after 30 days
6. Privacy Policy
Your privacy is important to digi-dotz and any information you provide during you use of or access to the site shall to the best of digi-dotz ability, remain private
If you choose to create an account any information you provide in your profile will be visable to digi-dotz and you may have the option to make certain details public or not.
Advertising displayed on the site may use "cookies" which are used to track clicks or page views containing the advert
digi-dotz does not view or process any credit card transactions on our site and so non of your financial details are stored or accessible to digi-dotz. Paypal sale notifications include your name, email and shipping address only
digi-dotz does not sell or share your personal information to anyone and will not sell or forward your email address to third parties unless required to do so by uk law